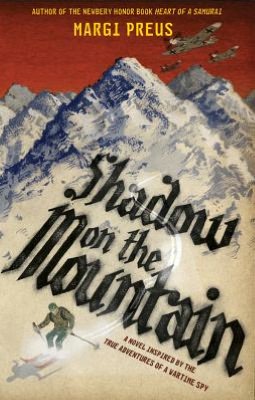 Summary(from goodreads) : Shadow on the Mountain recounts the adventures of a 14-year-old Norwegian boy named Espen during World War II. After Nazi Germany invades and occupies Norway, Espen and his friends are swept up in the Norwegian resistance movement. Espen gets his start by delivering illegal newspapers, then graduates to the role of courier and finally becomes a spy, dodging the Gestapo along the way. During five years under the Nazi regime, he gains-and loses-friends, falls in love, and makes one small mistake that threatens to catch up with him as he sets out to escape on skis over the mountains to Sweden.

The ARC of this book was generously donated to me by the wonderful folks at my local, family owned bookstore, Jacobsen's Books and More. This review looks to be the beginning of a mutually beneficial relationship: I get ARCs to read and review, and she gets to clear out some space. Thank you!
This book is set to be released on September 1st, and I cannot quote anything directly because I have an uncorrected proof. Aren't you excited? No grammar/punctuation rants this time! Wahoo!
Now, for the book. This is a YA title, and not just because the characters are young. This book is definitely geared towards younger readers, which must have been hard, because Nazi occupation is not really kid friendly, you know? And yet, it was handled beautifully. These kids were dealing with very seriously scary and adult issues, and I felt as if the author was spot on when describing their internal thoughts and dilemmas.
One of my favorite aspects about this book was the fact that I learned new things. I have studied the Holocaust and the history of the Jews pretty extensively, but the occupation of Norway was completely new to me. I mean, I knew they'd occupied Norway, but I didn't know any details. It was inspiring to learn about how serious the Resistance was, and how much the Norwegians fought, but in subtle and clever ways.
Another thing that, in my opinion, is handled very well is the ambiguity inherent to a situation such as this. There are the characters who love Norway, and their country's autonomy, and so are resisting the Nazis because of that. There are those who see this occupation as an opportunity to advance themselves, proving that they have no loyalty to anything. And then there is the character who, at first, seems to buy into the Nazi ideology completely, and then later seems as if he is doing so to protect his family. 
The Nazi soldiers who are in Norway are shown, in some cases, sympathetically. This is not to say that the POW and concentration camps are shown in a good light, or that any atrocities are lauded. Rather, some soldiers are portrayed as young boys, lonely and far from home in a hostile environment. This was good, I think, because in all things are a multiplicity of viewpoints and layers. However, the actual ideology of the Nazis is only mentioned once. This, to me, is where the book misses an opportunity. I felt a little confused as to why some people were so hell bent on resisting the occupation. There is a little whining about curfew, and an overwhelming sense of potential danger, but it was a little…I don't know. Distant? These characters took monumental risks, but any retaliation either didn't happen or happened offstage, if you will. This, to me, minimized the sense of urgency I might have invested otherwise.
All in all, I really enjoyed this book. I liked the characterization, and I loved learning new things. I think it's appropriate for kids as young as ten or eleven, and I'm not sure there is an age cap. Like I said, I liked it.